Floodlight and security camera combo is a great piece and worth the price. The reason is simple, security floodlight can be perfect choice to illuminate outdoor area of your house, PIR motion activated floodlight is able to switch light on automatically when there is an intruder sneak in your premises. So, having floodlight installed can help to increase security& safety of your property. Instead of using traditional security floodlight, people opted to floodlight cam, so they can not only illuminate outdoor and deter intruders, but also do video&audio monitoring.  Comparing to other type of security lights, we recommend floodlight that uses dual headlight design, customers love it because they can angle 2 different directions. 
In addition to HD camera, almost floodlight cam has built-in speaker and microphone, incorporating motion detection, it can scare intruders away by triggering siren alarm. This also enables home owners to do 2-way talk remotely. Most importantly, they can support video recording, for example Yoosee SL-M1 can support max. 64GB memory card recording, while Ring floodlight cam supports cloud storage. 
On one hand, floodlight helps to illuminate outdoor at night, on other hand it helps camera to capture color video. Unlike traditional camera relies on Infrared to see black/white image under darkness environment, floodlight cam is able to capture color image at night. Color image greatly help to capture detailed image that contains useful info for identification. Installing floodlight cam is super easy, it support AC power input, no need to use AC/DC power adapter. So if you decide to buy a floodlight and a security camera, then floodlight cam combo is the best choice.  
Yooosee Floodlight Cam SL-M1 
Yoosee SL-M1 is a dual-head PIR motion security floodlight has a 1080p HD camera. The floodlight cam offers max. 30W LED lighting, it has built-in PIR motion sensor can automatically switch lights on when sensing moving people. Yoosee ranks top second most popular brand in video surveillance sector in China after Hikvision. There are almost 20 million users currently using Yoosee cameras and the app. Since the floodlight supports Yoosee app, obviously users can setup the camera easily. Apart from 1080p HD video, the camera supports both Internet and standalone working mode. When under standalone working mode, you can directly watch live video even there is no Internet/router connection. SL-M1 has built-in memory card slot to offer max. 64GB video edge storage. Unlike Ring or other floodlight cam, the product has PC software which help users to manage camera on computers (Windows OS only).
Yoosee SL-M1 complies Onvif specification and RTSP stream protocol which enable it to be easily connected with your new or existing video surveillance system. It can send video stream to your home automation system, and your network video recorder, even attached network storage (NAS) as well.
Light specification:
Type: LED 30Watt 
Output: 2000Lumens
Color temperature: 5000K
PIR motion sensor: PIR sensor
PIR detection angle: 150 degree
IP rating: IP44
Camera specification:
Resolution: 1920x1080
Hardware: Hi3518EV200 
Image sensor: 1/2.7" 2MP progressive scan CMOS
Audio: built-in microphone and speaker
Video recording: microSD/TF card up to 64GB
Wi-Fi: 802.11 b/g/n 2.4GHz
Working mode: Internet/Standalone (AP mode)
Integration: Onvif 2.4 (Profile S), RTSP
App: Yoosee
PC software: CMSClient
Price: US$65
LUTEC 6324-CAM Floodlight Cam
LUTEC 6324-CAM is equipped with a 90 degree manually angle adjustable camera head module, the camera employs 1.0 megapixel CMOS image sensor and Hisilicon SoC to provide video surveillance capability. To setup the camera, users can download and install "SECURY'LIGHT" app on your smartphone. The camera has built-in Wi-Fi module to support 2.4GHz Wi-Fi connection, users not only can watch live stream, but also can record video footage to memory card because it has microSD/TF card slot design. LUTEC 6324-CAM also has built-in microphone and speaker for 2-way voice intercom.
LUTEC, headquarter in Ningbo, Zhejiang province. it's one of renowned lighting developer and OEM manufacturer. LUTEC has multiple subsidiary corporation in European countries, the company not only produces and supplies all kinds of modern lights, but also security lights, last year the company released a series floodlight with HD camera to embrace IoT trend.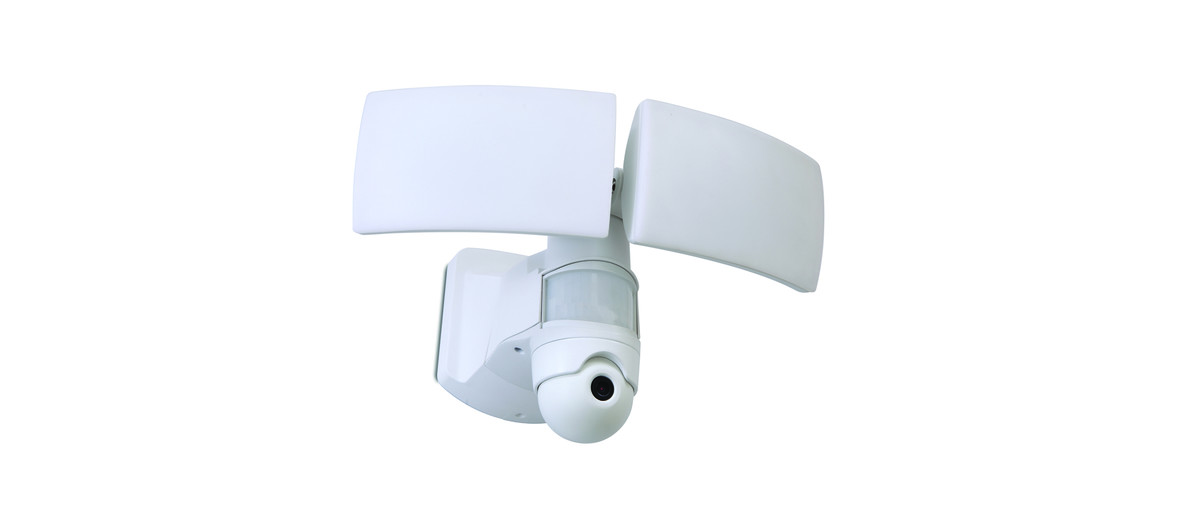 When light meets a camera, when light means security. SECURY'LIGHT provides high levels of safety and security, associating the LEDs with a connected camera is obvious and working with our own application running on a smart phone. With this app it is easy to program and control all the information received through the products. Our objective is always to privilege the lighting and the whole product value is complemented by these new services. Using the highest quality LED performance with state of the art security it provides the user with an effective and interactive security lighting system with excellent communication and practical operation.
LUTEC 6324-CAM, double head projector in the SECURY'LIGHT range. The two "wings" feature a diffusor surface without edges, resulting in a perfectly homogeneous light beam.The automatic plug-in connection allows a simple & easy installation. The multiple orientation possibility gives you full flexibility to cover the desired area.
Light specification:
Type: LED 38Watt 
Output: 3000Lumens
Color temperature: 5000K
PIR motion sensor: dual-PIR sensors
PIR detection angle: 150 degree
IP rating: IP44
Camera specification:
Resolution: 1280x720
Hardware: Hi3518EV100 
Image sensor: 1/3" 720p progressive scan CMOS
Audio: built-in microphone and speaker
Video recording: microSD/TF card up to 64GB
Wi-Fi: 802.11 b/g/n 2.4GHz
Working mode: Internet
Integration: unknown
App: SECURY'LIGHT
PC software: None
Price: US$149
Ring Floodlight Cam
Ring is so popular, we can't ignore its dominance in market. Ring at first only provides smart doorbell, then outdoor cameras, now they're also offering wireless alarm system. Ring advocates "The world's only motion-activated HD security camera with built-in floodlights, a siren alarm and two-way talk.". Is that mean only Ring owns the patent? I don't know, currently the Ring Floodlight Cam sells at price US$249, obviously they sell the items to high-end customers. As usual, Ring Floodlight cam supports 1080p live video monitoring and remote viewing on smartphone, different from other models, they provide cloud storage subscription to users. The hardware solution design is unknown, because it seems no amateur teardowns the RIng floodlight cam, because it's too expensive?.
It's meaningless to repeat those words you can find from product description page of Ring's website. In my own view, comparing to other floodlight cam, Ring supports advanced video analytics function including object detection, facial recognition. I'm not user of Ring, no idea how effective and useful of these two smart feature. It's based on US, US customers can have faster shipping and better sales service, technical support as well. It's also weird, we can not find some basic specification for Ring floodlight camera. 
Light specification:
Type: LED 
Output: 3000Lumens
Color temperature: 5000K
PIR motion sensor: PIR sensors
PIR detection angle: 150 degree
IP rating: IP44
Camera specification:
Resolution: 1920x1080
Hardware: Unknown 
Image sensor: 1/2.9" 2.1MP progressive scan CMOS
Audio: built-in microphone and speaker
Video recording: cloud storage
Wi-Fi: 802.11 b/g/n 2.4GHz
Working mode: Internet
Integration: unknown
App: Ring
PC software: None
Price: US$249